Start looking for solutions today.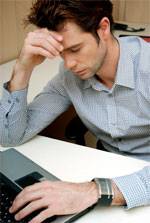 The HSE launched its updated work-related stress website earlier this year. It tells you all you need to know about how to tackle stress at work using the HSE's management standards approach. It also features updated guidance and advice, new case studies and a brand new self-assessment tool.
Visit www.hse.gov.uk to find out more.
Effective time management is a good way of reducing stress and fatigue and achieving a good work-life balance.
Good time management means planning and setting goals
tackle the most important tasks first
don't waste time on low priority jobs
don't spend time trying to deal with things outside your control
Strategies for managing time effectively, whether at work or at home:
Assess how you normally use time
keep a log of all your activities for a day or two and note the time you spend on each. Can some parts of the day be managed better?
spend 10 minutes every day planning and making a list of all tasks, both trivial and major – cross them off the list when they are completed. Remember to allow for unforeseen interruptions and delays, and to plan time for relaxation and leisure
Prioritise all the jobs that need to be tackled
without prioritising tasks it is very easy to rush about like a headless chicken leaving you exhausted, or to feel so overwhelmed that you don't get started on anything
prioritise the jobs on your list into 4 categories:
A = Absolutely essential B = Better done today C = Could wait D = Delegate
Aim to achieve the high priority jobs first. If a job does not have to be done today, it is alright to leave it for a more convenient time.
Learn to say "No"
many people find it hard to say no to requests, and end up taking on more than they can cope with
managing your time involves not taking on tasks you do not have time to so (try saying "No, I don't have the time) or setting a time scale for when you will be able to finish the task (try saying "I'd be happy to help you but I don't have the time until tomorrow")
Don't put off decisions
unsolved problems and unfinished business can be a source of tension and stress. If you have time and all the facts you need, deal with the issue now