Special Areas of Conservation are chosen because they have some of the best examples in Europe of special wildlife areas, creatures and plants that need looking after.
Cardigan Bay includes two Special Areas of Conservation (SAC) – a designation that aims to maintain and restore habitats and species of European importance. Both sites are managed by a partnership of local and national organisations (including the County Council) which have responsibilities for marine and coastal activities.
Cardigan Bay SAC: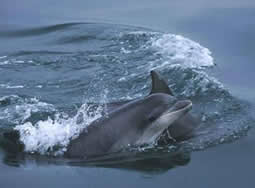 Cardigan Bay SAC is home to an amazingly rich variety of marine animals and plants, including the Bottlenose Dolphin and Atlantic Grey Seal. Together with the valuable habitats on which they rely, this makes the Bay an outstanding and internationally important marine environment.
To find out more, take a look at the Cardigan Bay SAC website which provides information about the wildlife and habitats of the Cardigan Bay SAC, how the site is being managed, and how you can play a vital role in helping us to conserve it for the future.
The management of the SAC is receiving a boost through the development of the Council's Recreational Boating Scheme. Education remains at the heart of this latest initiative. The Conservation Officer carries out boat patrols to promote the Ceredigion Code of Conduct with skippers in the area.
Penllyn & Sarnau SAC:
The Penllyn and Sarnau SAC covers a large area encompassing the Llyn peninsula to the north and the Sarnau to the south, as well as the large estuaries along the coast of Meirionnydd and north Ceredigion. Named after the Welsh word for causeway, the Sarnau are three rocky reefs that extend up to 24 km out to sea, formed from glacial debris following the melting of glaciers at the end of the last ice age. The southern boundary of the SAC is marked by Sarn Cynfelin at Wallog.
The SAC is of also of importance for the Bottlenose Dolphin and Atlantic Grey Seal.
To find out more, take a look at the Penllyn & Sarnau SAC website.
Inshore and Offshore SAC: West Wales Marine
There is a new Candidate marine Special Area of Conservation, the West Wales Marine SAC identified for the Annex II species; the harbour porpoise. See a map of the area here.
For more information please visit the West Wales Marine page on the JNCC website.