There are 28,188 acres (11,407 hectares) of common land in Ceredigion.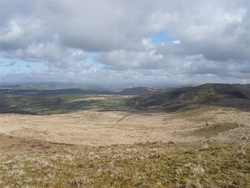 Common land is usually less cultivated than the surrounding farmland and forms an important resource for nature conservation, recreation and agriculture.
Common land is characterised by the following habitat types:
Unimproved dry acidic grassland
Semi-improved acidic grassland
Acidic marshy grassland
Bracken
Blanket bog
Heath land
Improved grassland
Rights of Common
Common land is usually privately owned land that is subject to rights of common that originate from the manorial land tenure system, which predate Parliament. A right of common can be defined as the right for someone to use the product of another man's land in common with the owner of the soil. Rights holders are often referred to as Commoners or Graziers.
Rights of common typically include:
Grazing sheep, cattle and/or ponies (pasture)
Cut and/or control bracken (estovers)
Gather wood (estovers)
Peat/turf (turbary)
Fish (piscary)
Pigs (pannage)
The day to day agricultural management of common land is usually discussed and agreed by a Commoners' or Graziers' Association where they exist.
Public Access to Registered Common Land
Within Ceredigion there are 120 registered units of Common Land with ownership varying from the Crown Estate, Private Landowners, Town and Community Councils, and also some 39 commons with no known owners, in the latter situation these commons have been given protection under Section 9 of the Commons Act 1965. This section of the Act provides that any Local Authority in whose area such an ownerless common is situated may take such steps against unlawful interference as an owner in possession of the land could take.
In May 2005, the Countryside and Rights of Way Act 2000 extended a public right of access on foot to all finally registered common land. For the most up-to-date information and maps showing where you can go and what you can do on access land, including details of any local restriction and closures, visit the access pages on the Countryside Council for Wales website.
Town or Village Green is usually an area of land within a defined settlement that is used by the local inhabitants for the exercise of lawful sports and pastimes.
These activities may include organised or informal games, picnics and village fetes. Some greens may also have rights of common over them.
There are 18 town or village greens in Ceredigion. They were registered under the Commons Registration Act 1965, which made it possible to register three categories of land as town or village green:
Land allotted under an Act of Parliament for 'exercise and recreation'
Land with a customary right for the inhabitants to indulge in lawful sports or pastimes
Land used by the inhabitants for sports and pastimes 'as of right' for 'not less than twenty years'
Erw Goch Field
Ceredigion County Council are processing an application under section 15(2) of the Commons Act 2006 to register a village green on land belonging to the Council at Erw goch field, land adjoining Hafan y Waun, Waunfawr, Aberyswtyth, SY23 3AY.
The Council acting in its capacity as Registration Authority are duty bound to investigate and determine the application. In accordance with Welsh Government guidance, a barrister has been instructed to act as an independent assessor and provide impartial advice on the application and make recommendations with regards to its determination. All the documents received with the application and subsequent consultation are available to download via the link beneath.
Application, Rebuttal and Supporting Documents (File size: 490MB)
Erw Goch Fields Response to App Submissions 
Response to applicants response
Under the Commons Registration Act 1965, the Council is obliged to hold a Register of Common Land and Town & Village Greens. Each area of Common Land or TVG in the County is assigned a unique CL or VG reference number.
The paper Registers and accompanying maps are held at our offices in Penmorfa, Aberaeron and can be viewed for free by prior appointment. Our office hours are 9am to 5pm, Monday to Friday. Copies of the paper Registers can also be provided for a charge, outlined below.
It should be emphasised that while the Commons Registration Authority is able to give advice about procedural issues relating to the Registers, legal advice should be sought from a Solicitor.
Fees for purchasing copies of the paper Register maps
Copies of the Register or accompanying maps (Land, Ownership and Rights) - £32.75
Each additional Register entry (Land, Ownership or Rights) - £1.25
Contact:
Name: Eifion Jones
Email: clic@ceredigion.gov.uk
Telephone: 01545 570881
Commons Act 2006 'Corrective' applications
The Welsh Government has advised that as of 5th May 2017, members of the public will be able to apply to make changes to the Register of Common Land in Wales, if they believe that it is incorrect and have evidence to support that.
The Regulations explain the types of application that can be made and the way in which they will be processed and decided.
Fees will be payable for certain types of 'corrective' application. For these, applicants will be expected to meet all costs associated with the process, which will include the Council's time in:
Checking that applications are 'validly made', with the required supporting evidence; advising applicants of the next steps and / or any additional information needed
Advertising and sending out formal notification of the application, including preparing documents and making them available for public inspection
Putting up site notices, for most (but not all) types of application
Liaising with the applicant and objectors if objections are made, to allow for comments to be exchanged
Determining the application
Notifying the applicant and others of the outcome of the application
The cost of assessing these applications reflects the fact that specialist Commons Registration and legal input will be required. As a guide, the minimum cost of making an application is expected to be £1420.00.
The decision about the outcome of individual applications will be made by either the Council, as the Commons Registration Authority, or by the Planning Inspectorate. This will depend on whether the application is opposed, the nature of the objection(s) and the type of application made. Please be aware that:
If determining the application, the Council may need to give opportunity for objectors and others to be heard. It may be necessary to hold a hearing, or a public inquiry; the cost of a public inquiry with an independent inspector is at least £2000
The Planning Inspectorate will recharge the applicant, if the application must be referred to them. They will advise the applicant of their fees at the time of referral
Further information and application forms are expected from the Welsh Government in the near future. In May 2005, the Countryside and Rights of Way Act 2000 gave the public right to access all registered common land on foot. For more information, please see the page about Access to the Countryside and Common Land.
Guide to the Commons Act 2006 (Wales) Regulations 2017 - Guidance for Applicants