Food Centre Wales recently had a virtual tour created of the centres' 'Innovation and Manufacturing Hub' to enable people to view the facilities on offer there remotely.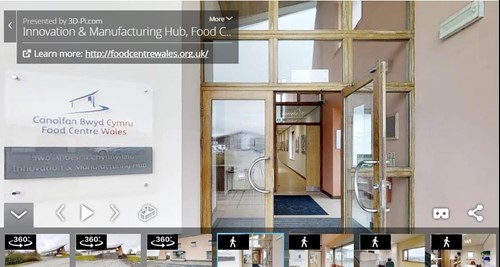 The 880m2 building consists of extensive manufacturing facilities available for commercial hire. Over the last 20 years, many Food and Drink manufacturers in Wales and beyond have utilised the facilities to develop and trial new products.
The 7 separate processing areas are all fitted to the highest standards and can be used to manufacture a wide range of products including dairy, meat, confectionary, vegetable and bakery. Storage space for chilled and frozen goods is also provided. The meat cutting room is fully licensed by the Food Standards Agency permitting sale of products to retail outlets as well as final consumer.
Unique to Wales, the Centre also boasts four individual Modular Food Production Units which provide manufacturing facilities to help start-up businesses take the first step towards increasing production and developing their businesses. Innovative food businesses can hire these high food grade facilities for up to 5 years, which helps them to increase production and grow their businesses without having to outlay premises costs. Since their construction in 2005, the units have assisted countless start-up businesses grow and flourish into very successful food processing businesses, supplying throughout Wales, the UK and even exporting abroad.
Gareth Lloyd, Cabinet Member responsible for Economic and Community Development, said, "We are very fortunate in Ceredigion to have such a space as Food Centre Wales. The technical facility is designed to allow food producers to manufacture products on a small industrial scale. For those near and further afield who would like to see the hub without travelling to Horeb, the virtual tour is an opportunity to see what the Centre has to offer."
You can simply access the tour, including a tour of one of the incubator units, on the Food Centre Wales website http://www.foodcentrewales.org.uk/facilities/ and also through Google Maps Street View.
Expert Food Technologists are on hand to assist the use of all processing areas and equipment. They will help scale up recipes, train the use of the equipment and set processing conditions - all necessary for manufacture.
To co-inside with Wales' Festival of Innovation, Food Centre Wales will be holding an Open Day on 26 June. More information will follow or call 01559 362230.
Image: A snapshot of the Food Centre Wales Innovation and Manufacturing Hub Virtual Tour.
10/05/2018