To coincide with the Commonwealth Games, a Ceredigion Play Unified Games was held on 25 April at Aberystwyth University.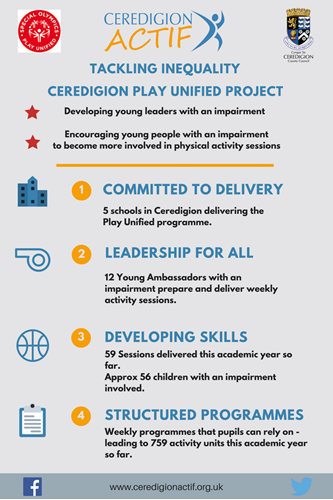 The Play Unified project aims to encourage young people with an intellectual impairment to become more involved in weekly physical activity sessions and to develop their leadership skills.
Pupils were given the opportunity to take part in three track events and three field events in a safe and sociable environment. The Young Ambassadors worked with Ceredigion Actif coaches to plan and prepare the day.
Ceredigion Actif started the Play Unified project in Ceredigion in September 2016. Five secondary schools are involved in the project across the county. These are Penglais School; Penweddig School; Aberaeron Secondary School; Bro Pedr School; and Cardigan Secondary School.
Weekly sessions are delivered during lunchtime/school time and the children are then encouraged to attend Active Young People sessions and community clubs. There are 12 identified Young Ambassadors with an impairment who prepare and deliver the weekly sessions to around 52 children with an impairment.
Councillor Ellen ap Gwynn, Leader of Ceredigion County Council and Members' Champion for Equalities said, "Play Unified project is very important to develop young leaders with an impairment and to encourage participation in regular physical activity sessions and structured programmes. This project is the first of its kind in Wales and tackles inequality in sport. Celebrating the project with Ceredigion Play Unified Games is a fantastic step in ensuring sport is available for anyone to enjoy and participate in."
Penglais and Bro Pedr Schools have worked together to host sessions where the Young Ambassadors plan and deliver the session for everyone involved.
Images
• Infographic showing a snapshot of the Play Unified project.
• One of the groups competing in the Ceredigion Play Unified Games.
17/05/2018