Cered: Menter Iaith Ceredigion have launched Hwyl yr Haf 2018 which is a guide full of Welsh medium and bilingual activities for children, young people and families in North Ceredigion, following on the success of the Hwyl yr Haf pilot project during the 2017 summer holidays.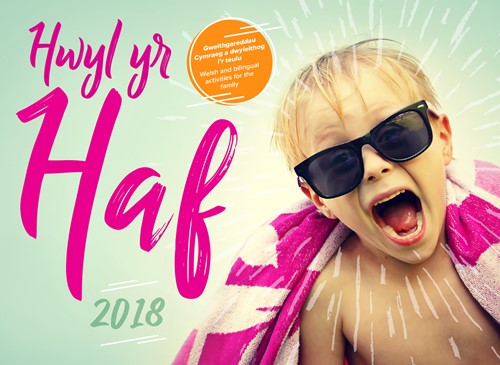 This year, the guide includes even more activities and has involved working with five additional partners namely Aberystwyth Arts Centre, Gigs Cantre'r Gwaelod, Ceredigion Youth Service, Ceredigion Young Farmers Club and Ceredigion Training.
The idea of creating a program of Welsh language activities over the summer holidays was first discussed at one of the meetings of the Welsh Language Powerhouse, a scheme run by Cered to assess the situation of the Welsh language in the area of Aberystwyth. The Welsh Powerhouse crew felt that there was a need to bring numerous Welsh-medium Welsh institutions together to create a program of high quality Welsh language activities that would attract the attention of parents of all linguistic backgrounds.
Steffan Rees, Cered's Community Development Officer said, "From the positive feedback on the 2017 guide, there is obviously a demand amongst both Welsh speaking and non-Welsh speaking parents for a timetable of things to do with their children over the summer holidays – and Welsh language activities at that!"
Hwyl yr Haf 2018 includes a wide range of activities for all ages and interests. Amongst the activities this year are sports camps including mountain biking, arts and crafts, gigs, a construction skills taster day, drama, puppet shows and much more.
Councillor Catherine Hughes, Cabinet Member with responsibility for Children Services and Culture added, "It's great to see a further five organisations joining the scheme this year in order to enrichen the Welsh or bilingual opportunities available for children, young people and families in the north of the county to enjoy."
In order to discover the Hwyl yr Haf guide, go to Cered's website, www.cered.cymru, Facebook @menteriaithcered, Twitter @MICered or Instagram @menteriaithceredigion.
For more information, contact Steffan Rees, Community Development Officer on 01545 572 350 or steffan.rees@ceredigion.gov.uk.
12/07/2018