Aberystwyth Community Ambassadors - a sub-group led by Ceredigion Youth Service - raised a total of £103.17 for a local charity by selling handmade crafts at Ysgol Gyfun Penweddig's Christmas Fair on 24 November 2017.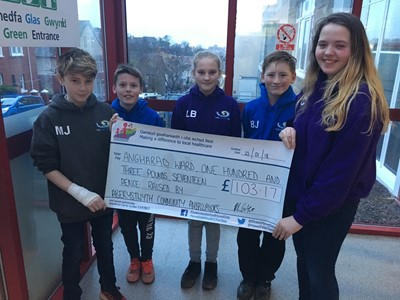 The group decided to donate the proceeds to Angharad Ward at Ysbyty Bronglais to support other children and young people from across Ceredigion who are receiving care. On Tuesday 23 January 2018, the group had the opportunity to present a cheque to the Ward and were congratulated on their hard work.
The aim of Aberystwyth Community Ambassadors is to lead new and exciting projects focusing on children's rights and opportunities and to empower and enable young people to develop community engagement.
Ceredigion Youth Service Youth Worker, Rebeca Davies said, "It is great to see young people so eager to build community links and become involved in their local towns. The Ambassadors group provides young people with a platform to develop projects and activities, to develop community cohesion and of course, to provide young people with new skills and experiences. The group worked very hard to create hand-made crafts to sell at a local Christmas Fair, displaying leadership skills, initiative and innovation. We look forward to focusing on the next project!"
The Ambassadors' next project will focus on the history and heritage of Aberystwyth, through the use of art, photography and mapping.
Councillor Catrin Miles, the Cabinet Member responsible for Learning Services, Flying Start and Team Around the Family said, "It's wonderful to see the young Ambassadors playing an active and positive role in the community, and they've done very well to raise money for Ysbyty Bronglais. The Ceredigion Youth Service do great work in supporting the Ambassadors, and I'm sure their next project will be a great success."
Ceredigion Youth Service is the designated Service for young people aged 11-25 in Ceredigion, dedicated to supporting young people's personal, social and educational development through specialised support and open access provision. Provision includes School Based Youth Work, Outreach Youth Work and Youth Clubs. For more information or to find out what opportunities are available to you, head over to their Facebook and Twitter pages at @GICeredigionYS or contact the Team on youth@ceredigion.gov.uk.
30/01/2018