Ceredigion Youth Service has been successful in attaining a grant from Welsh Government to support young people in improving their use of the Welsh language.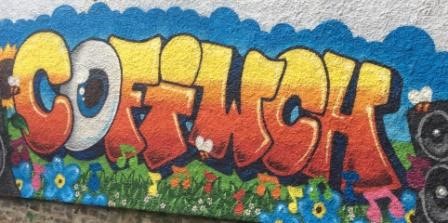 The Cymraeg 2050 Grant is a key element of the Welsh language strategy, Cymraeg 2050: A million Welsh speakers. It's aims to increase people's daily use of the language and to promote technology which supports the use of Welsh. The Ceredigion Youth Service Team will co-ordinate a roadshow, where young people can attend sessions in Cardigan, Aberaeron and Penparcau youth clubs from January to March 2018.
Councillor Catrin Miles, Ceredigion County Council Cabinet member responsible for Learning Services said, "Young people are the future of the language and it's very encouraging to see projects like this giving Ceredigion's young people another opportunity to use the Welsh language. I'm delighted that the Youth Service has secured this valuable grant."
The project will provide young people aged 11-21 with opportunities to engage with a local graffiti artist to depict their perceptions of Ceredigion's heritage and also learn more about the Welsh language through Welsh heritage awareness sessions, working in partnership with National Library for Wales. The planning, delivery and evaluation elements will be through the medium of Welsh, with Theatr Felinfach supporting in creating an interactive video celebrating the young people's journey.
Principal Youth Officer for Ceredigion Youth Service Gethin Jones said, "This is an exciting project that aims to engage young people in a unique activity which will develop their interpersonal skills, particularly for those who are less confident or familiar with using the Welsh language. The three youth clubs will create a mural each that celebrates what the young people think of their local heritage, and by April 2018 we will unveil the pieces along with the promotional video at our annual award ceremony to hopefully motivate and inspire other young people and their communities".
For more information about this project, or to find out more about what Ceredigion Youth Service has to offer, visit the social media pages @GICeredigionYS, call 01545 572352 or email youth@ceredigion.gov.uk.
24/11/2017