Students are asked to stay at their university accommodation during the coronavirus firebreak lockdown, and not travel to their home addresses or stay with others.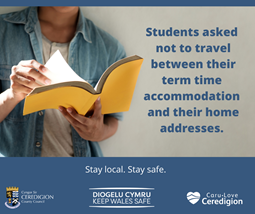 The Welsh Government has announced that the two week firebreak lockdown will begin this Friday, 23 October 2020, and last until Monday 09 November 2020, in an attempt to regain control of the coronavirus in Wales. This means that people will be required to stay at home and non-essential businesses will close. However, the Welsh Government has said that face to face learning should continue in universities.
Ceredigion residents who are currently away at colleges or universities across Wales or the United Kingdom must stay at those locations and not return home to the county to visit family or friends. We understand that this is a challenging time for families, but travelling back and forth poses a risk of spreading the virus to new and different areas in our communities. We ask people to abide and follow these rules strictly to protect the wider community and the high percentage of elderly population that live in Ceredigion.
Similarly, Ceredigion County Council are continuing to work closely with the two universities in the county, which include Aberystwyth University and the Lampeter Campus at University of Wales Trinity St David. We ask all students who are studying at these establishments to remain in their university accommodation and not travel to their home addresses during this period. Both universities will continue to provide a combination of face to face education and online provision during this period.
Students should also self-isolate in their university accommodation if they have symptoms or have been contacted by the Contact Tracing Team, and must not return home to visit family or friends.
The Welsh Government's advice states that students should only move between their university accommodation and their home address if the journey is absolutely necessary, for example for work, to provide or receive care or because of concerns about wellbeing. All the latest information for students, families and univeristies is available on the Welsh Government's FAQs page. 
For advice and information that is specific to Ceredigion, visit our coronavirus pages. This advice also forms part of our Winter Strategy to protect the education provision within schools, colleges and universities.
We thank everyone for following the guidelines. Stay apart to play your part.
Together, we can keep Ceredigion safe.
22/10/2020