Ceredigion Youth Service (CYS) have been successful in utilising funding to develop the garden area at Aberaeron Youth Centre.
The young people who attend the youth club decided that they wanted to turn the garden into a safe space for everyone to enjoy. The garden had been left dilapidated for some time and deemed too hazardous for the youth club members to enjoy. This was partly due to adverse weather conditions over the years and instances of vandalism. Therefore, the garden was in need of some considerable repair and maintenance.
CYS was successful in gaining a Youth Led Grant from CAVO via a video application which the youth club members filmed themselves in order to seek support with funding to help develop the space to be safe and inclusive. The youth club also received an additional donation towards the garden project in remembrance of Mathew Evans, a long term youth club member who tragically passed away in 2017 in a car accident.
Councillor Catrin Miles, Cabinet Member with responsibility for Learning Services said, "It is wonderful to hear that the young people decided they wanted to develop the garden and make it accessible and spacious for everyone to enjoy. Open spaces are of utmost important to the health and well-being of us all, and now Aberaeron Youth Service and the community have a garden to enjoy."
The young people helped with removing the old debris and materials and supported in the construction and the new layout by shifting and setting over 5 tonnes of gravel, laying down slabs and replacing the old decking and steps. Furthermore, new trees and flowers have been planted with bird boxes assembled that will be placed in the garden along with other sensory resources.
The project has been youth-led from the beginning, with Outreach Youth Worker Rebecca Williams coordinating and engaging with a wide variety of different groups and people. The project has worked in partnership with Hyfforddiant Ceredigion Training, a work based learning provider that offers a range of vocational courses to prepare people of all ages for the workplace by providing skills training. The project has engaged with youth club members, young people who attend Children's Disability Team's provision, Canolfan Aeron and also alternative curriculum pupils and young volunteers.
A total of 44 young people volunteered and supported the development of the project since January 2018, with 30% of those participants continuing to engage in volunteering opportunities. Principal Youth Officer for CYS, Gethin Jones said, "This project has been a great opportunity for young people to become empowered and get involved with something truly positive. It has gone through a remarkable transformation and the impact it will now have moving forward is also very exciting as they will be able to enjoy the space safely. It will also give the centre greater opportunity of engaging with the community and allow other groups to visit and enjoy the space. Thank you for the generous donations and everyone who has supported the project to make it happen".
The garden is almost ready and is receiving its final touches to make it look vibrant and appealing to all members of the community. An open evening is planned for Thursday, 3 May between 6pm and 7:30pm where the garden will be officially opened. A warm welcome to all from the area to come and enjoy the new garden and complimentary food and refreshments.
For more information, or to find out what opportunities are available to you, head over to CYS Facebook and Twitter pages at @GICeredigionYS or contact the Team on youth@ceredigion.gov.uk.
Images: Young people working to develop the garden.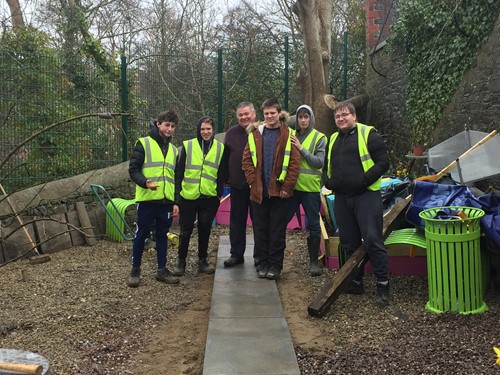 25/04/2018