What other job can boast that they created the biggest and fattest gypsy wedding dress in West Wales? This was my challenge 4 Christmases ago when I was asked to create the dame dress for Theatr Felinfach's Christmas pantomime.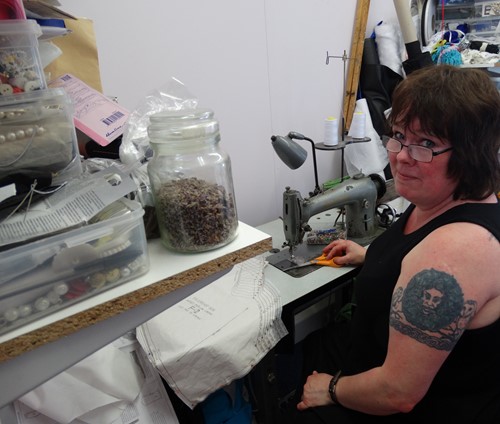 The wedding dress had a circumference of 18 foot, a mixture of cerise pink and bright orange satin, a holographic apron, covered in sequins and fairy lights, with a steel boned crinoline and petticoat of pink and orange net underneath. It had to be big enough to hide two people underneath the skirt, and took me three months to make. Three months, and worn on stage for five minutes!
You could say that it was inevitable that I would lead a career in the creative arts of some sort; my Father is a retired potter, my Mother was interested in fine art and my Gran was a tailor. I spent a lot of time with my Gran sewing clothes and toys. From a young age, I enjoyed designing, and would make clothes and dolls for my siblings from my Gran's hoard of scraps.
I'm originally from Bwlchllan, finished attending Aberaeron Secondary School in 1983, and went on to Carmarthen College of Art until 1985. I then went to the London College of Fashion until 1987 where I got a HND in Fashion. After finishing, I started working in London as a designer at a wholesaler, designing ladies wear for mass production, then got a job as an embroiderer for a textile designer, producing top of the range jackets and knitwear.
In 1990 I decided to come home to Ceredigion, met my husband, and we now live in New Quay with our 18 year old daughter.
After returning home from London, it made sense to set up my own embroidery business. For the majority of the year I would embroider wedding dresses for a shop in Carmarthen. Then, every summer, my husband and I would travel to motorcycle shows with the machine where I would produce patches on site and take orders to keep the money coming in.
After a few years, I decided to try something different and went to work as a play worker in the holiday club for a private nursery.
I always thought I'd be an artist of some sort, but I never thought I'd have a career in costume design, even though I've always had an interest. However, in 2007 I saw this job advertised at Theatr Felinfach, and 10 years on I'm still here and enjoying the job.
As Wardrobe Mistress, I am responsible for supervising all wardrobe related activities. The role is varied to say the least, which can involve being present at production meetings doing fittings, working with visiting production teams and stage management teams, as well as working with the Theatr crew on our own productions. One recent costume was a 6 foot German Shepherd dog made from scraps of fun fur and a couple of ping pong balls for eyes. I've also made a listeria costume…..don't ask!
On another day, I might be inspecting the costumes and checking for any repairs needed. All the costume repairs are done on site by me. My office is equipped with a sewing machine, overlocker, glue gun (rarely used except on hats), a few rolls of material, loads of scraps, boxes of buttons, threads, fastenings, lace trims and beads. Most of the trims and other things have been taken from defunct costumes and recycled.
You will usually find me designing and creating costumes, maintaining costumes, shoes, hats and accessories like handbags, gloves and jewellery. I have to be pretty organised, as all the clothes and accessories need to be stored correctly so that they can be easily found when requested. The role means I oversee all aspects of the costume maintenance. Original period costumes are archived and used as a reference when making new stock.
The theatre was established in 1972 and its role was to promote informal education and learning through the arts. That function is still core to all the theatre's work and I offer opportunities through the wardrobe department, for example work experience and volunteering opportunities.
The wardrobe department has hundreds of costumes ranging from the 50's, 60's, and 70's, fancy dress and various animals, as well as some original pieces from the Victorian era. At the moment I am sorting through the retro clothes and trying to create some more 50's dresses and aprons, as at present we are lacking sizes from this era that will fit the ladies of the 21st century.
I have also started creating clothes in readiness for the centenary of the end of WW1, which is next year. We get a lot of requests from groups like the local Young Farmers Clubs, schools and amateur dramatic groups for costumes, so, in preparation I'm trying to be organised and have a selection ready for them. It's always good to plan ahead.
I ensure the entire collection of garments are cleaned and laundered. I've never counted them all, but including the hats and menagerie, it could be over a thousand - that's a lot of washing powder! When there is a production in the Theatr, I make sure all the costumes are pressed, steamed and presentable prior to each performance or use by the public.
People are very kind and often donate clothes, fabric and curtains for our use. Once we've had a donation come in, I go through everything to see if they need to be mended and make sure they can be used. If they can't be used, I make them into something else. It's a very creative role and I can be creating something different every day.
We offer a hire service, where local groups and the public can come and hire our costumes for their use such as a party or a performance. There is a wide range of costumes from pirates to clowns, pantomime horses and dragons. Everything is for hire from as little as £2 such as a pair of elbow length gloves.
The most exciting part about the job is I never know what people are going to ask me for. It can get a bit stressful when there's a big performance coming up, but I enjoy being creative, seeing the potential in clothes and enjoy upcycling. If you have an eye for detail and enjoy working with textiles, this could be a career for you too………but you can't have mine.
I'm currently looking for cotton sheets (preferably white), cotton velvet curtains or any other curtains so that I can turn them into costumes. If you have any that you don't need any more and want to donate to us, please get in touch.
If you would like to know more about volunteering with the wardrobe department, have an event coming up and would like to hire costumes, or would like to commission something unique then email me Anneliese.Mowbray@ceredigion.gov.uk; or call 01545 572 365.
14/12/2017