Are You Thinking About Stopping Smoking?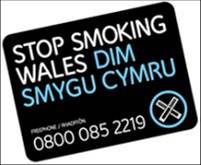 It is estimated that over two thirds of smokers would like to stop smoking.
The advisors at Stop Smoking Wales know how hard it can be to give up smoking. But when you're ready to stop you don't have to go it alone. Stop Smoking Wales offers free, friendly, local, NHS support that really works.
Research has shown you are four times more likely to quit with a support programme like Stop Smoking Wales than in any other way.
Help is available in your area. Stop Smoking Wales run weekly sessions in venues across Ceredigion, including Cardigan, Lampeter, Newcastle Emlyn, Llandysul, Crymych and Aberystwyth.
What happens when you contact Stop Smoking Wales?
Stop Smoking Wales offers free, friendly, local support for smokers who are ready to stop.
When you call the free phone number (0800 085 2219), you will be put in touch with a trained advisor. You can find out the times of sessions near you and an appointment will be made for you if you wish.
You will then be invited to an assessment session and before stopping smoking, your advisor will help you to understand why you smoke and when. Your advisor will also help you to plan and prepare for your quit date.
The six-week support programme will provide ongoing help and advice.You will receive information about the different kinds of treatment available, such as Nicotine Replacement Therapy (NRT) and the newer stop smoking aids that don't contain nicotine. These products are available free on prescription.
The support continues through the early stages of becoming a non-smoker. With Stop Smoking Wales you won't give up on giving up.
What do service users say about Stop Smoking Wales?
"The Stop Smoking Wales service is friendly and never judgemental about how many cigarettes you have smoked and for how long over the years. It is all about focussing on the best way of achieving success for each individual and being there for you when you are finding it difficult in the early stages." - Gary, Stop Smoking Wales service user.
"I'll be realistic - it isn't easy giving up cigarettes at times, but access to services to help you quit couldn't be easier. The support I have received from Stop Smoking Wales and its trained specialists has been wonderful and without them I would have struggled to do it." - Janet, Stop Smoking Wales service user.
Stop Smoking Wales:
Freephone number: 0800 085 2219
Website: www.stopsmokingwales.com
There is more help available for people wanting to give up smoking:
many local pharmacies offer a special service to help smokers quit
every doctor's surgery will provide advice and support – you only have to ask