Volunteer Information Pack
Individuals who volunteer with the Council will be issued with a Volunteer Information Pack. This pack provides them with the necessary information before carrying out any work, such as lone working procedure and risk assessments.
For more information about volunteering, please contact biodiversity@ceredigion.gov.uk
Want to get involved with the works of the Coast and Countryside Section?
The work of volunteers makes a big difference in achieving the goal of conserving our wonderful environment. Volunteers play a vital role in a number of areas of work – from helping to manage our marine wildlife to improving rights of way.
Dolphin Watch
Dolphin Watch is an annual survey that takes place from six land-based sites along the coast between March and October each year. The Dolphin Watch project was set up by Ceredigion County Council in 1994 amidst concerns that relatively high levels of boat activity were causing disturbance to bottlenose dolphins and other marine wildlife in the area.
The main aims of Dolphin Watch are:
To improve our understanding of bottlenose dolphins site use within the Special Area of Conservation (SAC)
To monitor trends in dolphin occurrence and levels of boat traffic
To assess the effectiveness and need of management measures that aim to reduce the risk of disturbance or injury to dolphins by boats
To increase public awareness and appreciation of the marine wildlife in Cardigan Bay
Volunteers are required to help at the six sites between May and September. If you can spare a few hours a week to help out with this important and interesting research please get in touch with Melanie Heath, the Marine Protected Area Officer on 01545 561074 or by email melanie.heath2@ceredigion.gov.uk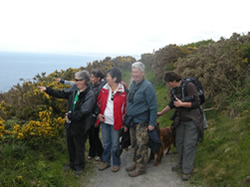 On the Reserves
Help is always appreciated with the many varied tasks of looking after our Local Nature Reserves in Aberystwyth, so why not join us and meet new friends and get fit at the same time in the fresh air?
Activities include:
Beach cleans and survey dates at Pen Dinas and Tanybwlch LNR
Volunteer work-days to tackle the varied habitat management at Parc Natur Penglais LNR
Contact the Council's Countryside Section at countryside@ceredigion.gov.uk or call 01545 572141 for more details.
Work on the Reserves
In October 2016, volunteers from Aberystwyth University cleared a line of scrub to maintain the firebreak at Pen Dinas. This work also helps to create a mosaic of open areas and vegetation cover beneficial to insects and reptiles. An Ecologist regularly monitors the site and reptiles were recorded in the previously cleared areas during 2017.
Whilst maintaining the firebreak, the work also helps to achieve the other objectives of the management plan to this area of the reserve:
Reduce gorse and scrub vegetation to 80% cover
Increase unimproved grassland area to 20% cover