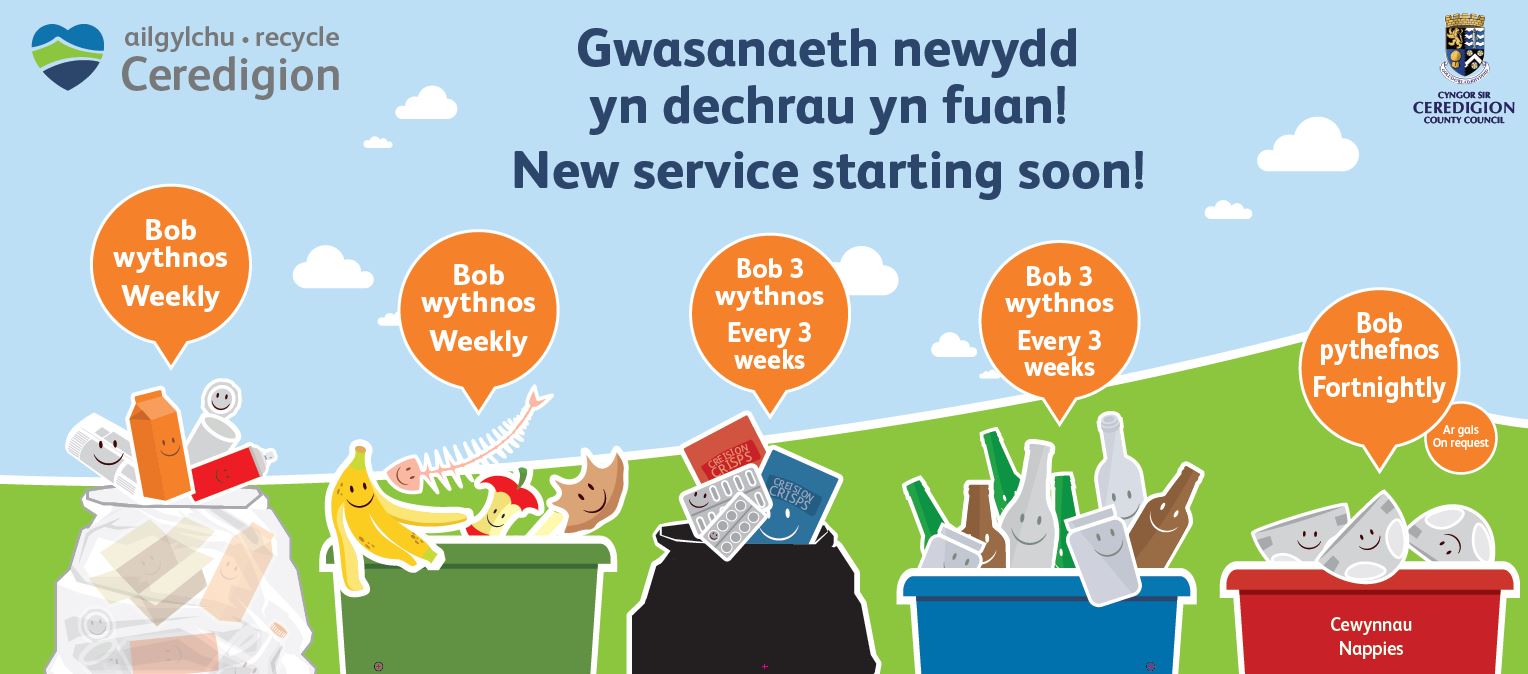 Smaller or additional boxes for glass bottles & jars
As you may be aware we are in the process of rolling out the new waste collection service and delivering the recycling packs to households across the county. The recycling pack includes a box for glass bottles and jars.
The standard box is 44 litres in capacity.  However we understand that family sizes vary as does the amount of glass that households produce.
A full box of glass can be heavy and some residents may need to split their glass into more than one box to make it easier to carry.  Some households produce more glass than others and might find that one box isn't large enough.  An additional box is available on request.
Alternatively for those producing very little glass a smaller box with handle and lid is available on request.
Residents are asked to please try to use the standard box before deciding whether or not the box is suitable or adequate.
If do you need a smaller box, or additional standard boxes please get in touch with us.  However please note that the waste management team is prioritising the delivery of the initial recycling pack. Unfortunately, deliveries of additional or replacement boxes will therefore be delayed.  We thank you for your patience.
Smaller box
After trying to use the standard box, if you feel a smaller box would be more suitable you may request a replacement.  You will be asked to leave the standard box where it can be collected when the replacement is being delivered.
Additional box
Until the delivery of the additional box is made you may present any surplus glass out for collection, on the scheduled glass collection day, in a suitable container of your choice e.g. a bucket, tub or old cardboard box. Where possible we will attempt to return your container.
Below is a list of Questions and Answer about the new service.
Why is the service changing?
Because we need to recycle more.
People generally recognise that recycling is a good thing and most of us in Ceredigion already use the clear recycling bags and the food waste bins that the Council provides. This is much better for the environment than putting our rubbish into black bags and sending it for treatment or dumping it in landfill.
Although Ceredigion is performing quite well, half of the waste that we currently put into black bags could have been recycled or put in the food waste bin. We need to recycle more and deal with our food waste more responsibly.
It actually costs us much more to deal with the waste that is put into black bags. This means that if more people use the clear bags and food waste bins properly, you and the Council will save money and the environment will benefit.
The Welsh Government has set recycling targets and if we don't meet them we could be fined. This would mean either reduced Council services or increased Council Tax for our residents.
When will the service be changing?
The Waste collection vehicle fleet is being replaced, and the roll out of the new service will start as soon as possible. We will roll the service out over a period of months starting in spring 2019.
What changes will there be to the service?
Clear recycling bags and food waste will continue to be collected on a weekly basis. Black bag will be collected every 3 weeks, and a collection of glass bottles and jars will be introduced every 3 weeks. We will also introduce a separate fortnightly collection for nappies and similar waste.
I don't have room to keep black bags for 3 weeks, what should I do?
The majority of your waste is recyclable or is food waste and will be collected every week. Please use the recycling bags and food waste bins provided which will reduce to a minimum the amount of waste that you need to store for more than a week.
We have young children in nappies, are we expected to keep them for 3 weeks?
As part of the new service we will be introducing a separate nappy collection which will be collected every 2 weeks, so you will no longer need to put them in the black bag. Residents need to apply for this service.
Alternatively you could switch to using Real Nappies, the Council has a Real Nappy Project which could help you make the switch. Details of the project can be found on the Real Nappy Project page.
How will the glass bottles and jars be collected?
Glass bottles and jars will be collected separately, and all residents will be provided with a box to store the bottles and jars until collection day. Boxes will be distributed prior to the start of the new service. Please do not put them in the clear bag with all of the other recyclables, or in your general waste bin/bag.
Will we be provided with a container/wheelie bin for black bags?
Currently there is no plan to provide a container for general waste. Residents should provide a suitable secure container for their general waste.
Are you going to limit the amount of black bags we can put out every 3 weeks?
Currently there is no plan to limit the amount of black bags that residents can put out for collection. Options such as changing the frequency of collection or imposing a limit may be reviewed in the future.
What will be happening to the glass banks after the new glass collection starts?
Glass banks will remain in situ until the new service has settled in, and will be reviewed 3 months later.
Are you going to make any cost savings by changing to 3 weekly black bags?
Yes, the change is anticipated to reduce the cost of providing the waste management service. The more we recycle the bigger the savings will be.
The Council is saving money how are these savings passed onto the residents?
The Council is under significant financial pressure. Savings in services such as waste management are used to support other Council services and help limit Council tax increases.
Have you considered issues such as hygiene, warm weather, maggots, rats etc.?
Most other Local Authorities in Wales collect non-recyclable waste every 3 weeks and in one case every 4 weeks. The wastes that may create problems in warm weather or attract pests are food waste and hygiene waste. These will continue to be collected more frequently.
When will the free food waste liners be available?
As of the 1st of April 2018, the food waste liners will be available from Council Cash Offices, Libraries and Tourist Information Centres free of charge for residents to collect. The Council will deliver free food waste liners during the roll out of the new service.
What size will the boxes be for the glass collection?
The standard boxes are around 44 litres in capacity, these are used widely throughout the UK. Unless otherwise requested, households will be provided with one box. Additional boxes will be available on request. Alternatively a smaller box with a handle will be available.
Have you considered how students are going to cope with a 3 weekly black bag collection?
Students like all other residents are required to recycle as much as possible and to use the food waste collection. The Council will be working closely with several agencies to encourage all householders to use the service properly. Action may be taken against those who fail to do so.
What will happen if we miss a collection of black bags, will we have to wait another 3 weeks?
The Council will only return to collect waste containers where the service failed to collect as scheduled. Households will be issued with a collection calendar which will help you remember when collection day is. The Council cannot return to collect containers where the householder has failed to put waste out on the correct day/time. If you are away from home on collection please speak to neighbours/friends about putting your waste out for collection. Alternatively recyclable and non-recyclable waste is accepted at the county's household waste sites. There is currently no limit on the amount of black bags that can be taken to the sites on condition that it is genuinely household waste. You should expect to be asked to sort through the bags and place any recyclable material into the appropriate container on site.
Will we be receiving calendars with the new 3 weekly collections on them?
New waste collection calendar will be delivered as part of the roll out of the new service. All residents will be notified in advance when their collection will be changing.
Absorbent Hygiene Products (AHP) Collection Service
We understand that by changing the non-recyclable ("black bag") waste collection to every 3 weeks, some households may need help to dispose of disposable nappies and incontinence products, also known as Absorbent Hygiene Products or AHP. Therefore we have introduced an additional collection service to deal with this type of waste.
What is accepted in the AHP collection?
Disposable nappies

All types and size
Training pants and pull ups
Swim pants

Nappy changing waste such as wet wipes, nappy sacks and cotton wool
Incontinence products

All types and size of pads, pants and pouches
Empty catheters, stoma / colostomy bags and tubing
Disposable chair pads and disposable bed pads, liners and pans
Please contact us if the type of incontinence product you use is not listed above.
What is NOT accepted in the AHP collection?
Sanitary waste (sanitary towels or tampons) – please put in the non-recyclable waste collection.
Infectious clinical waste, needles, sharps and syringes - Medical or clinical waste: please speak to your local Health Board, district nurse team or call the NHS 111 Service.
Animal waste.
Animal bedding – small amounts can be placed in the non-recyclable waste collection, or might be suitable for home composting.
Plaster casts.
Plasters, medical swabs and dressings - please put in the non-recyclable waste collection.
Soiled blankets and clothing – please put in the non-recyclable waste collection.
How it works
Once we have received your application form we will contact you with further details about the service.
If your application is successful, an information pack and supply of AHP bags will be delivered to your property.
All AHP bags should be tied securely, with the contents fully contained within the bags, before being presented at the kerbside or agreed collection point.
The AHP bags will be collected every 2 weeks and we'll let you know when your collection day is, by providing you with a special waste collection calendar.
If no waste is presented on 3 consecutive collection days we will assume you no longer require this service. If you need to re-start the service, contact 01545 570881.
How do I apply?
To receive the AHP Collection Service households are required to complete an application form which can be filled in by clicking on the button below:
Apply for AHP collection service
Frequently Asked Questions
What about washable nappies?
We encourage the use of washable nappies as an alternative to disposables. See our website for information about the Real Nappy Campaign.
Who is eligible for the AHP Collection Service?
Any user of AHP who lives permanently at the address provided on the application form. If there is more than one person who requires this service at the address please provide both names and their requirements. There is no need to submit two separate application forms.
Will you collect nappies from babies and children of all ages?
We understand that babies develop at different ages and there is therefore no restriction on the age of the baby/child in nappies.
Can I have a container to store the AHP bags?
It is up to the householder to store the bags between collections.
There may be scope for alternative provision for some householders, for example if there is a medical need, which will be considered on an individual basis.
If my supply of AHP bags runs out can I use any plastic bag?
No. We will only collect Council issued AHP bags for the AHP Collection Service.
How do I request a new supply of bags?
You will be provided with an initial supply of AHP bags. If you run out of AHP bags please contact us and provide the reference number that was on your information pack. We will arrange a delivery of a supply of additional bags to your property.
What happens if I put the wrong material in the AHP bag?
Should we find materials other than the accepted items in the AHP bags, they will not be collected. Householders who persistently put the wrong materials in the AHP bags may be removed from the collection service.
Can I put disposable nappies and incontinence products in my black bag waste?
Yes, the waste needs to be double bagged.
My Grandchild comes to stay with me; will I be able to get the collection?
No as it is not the child's permanent address. However we can suggest that the nappies are taken back to the child's permanent address for collection if permanent address is registered for the service in Ceredigion.
I am a grandparent/relative who provides childcare for free, whilst the parents of the child are at work, will I be able to get the collection?
No as it is not the child's permanent address. However we can suggest that the nappies are taken back to the child's permanent address for collection if permanent address is registered for the service in Ceredigion.
What will happen to the AHPs collected as part of the service?
A decision has not yet been made, we hope it will be recycled but it has not yet been confirmed.
I use incontinence products, but do not wish to advertise this fact by putting a sack out for the AHP collection service. Is there any way this service can be carried out in a discreet manner and how can this be arranged.
When filling in the form there is a section in Q7 where residents are able to let us know how we might be able to provide the service as discreetly as possible.  Please let us know how we might be able to help.
Can I receive the AHP service Collection Service if I am a child minder?
Yes, but you will need to have a commercial waste contract with us for this waste.
Contact Us
01545 570881
www.ceredigion.gov.uk/recycling
Waste Management
Highways and Environmental Services
Neuadd Cyngor Ceredigion Penmorfa
Aberaeron
Ceredigion
SA46 0PA